If your series already exists on another hosting platform, it is easy to import your episodes into ART19 and redirect any existing listeners who may already be subscribed. Here you'll find directions on how to place a redirect on your podcast RSS feed from various different hosting platforms.
One important call out is that 301 Redirects require you to have your new ART19 RSS Feed. If you have not done so already, please submit your series to ART19 via our new series request form here. (Once your new series profile is set up on ART19, we will provide you with your new ART19 RSS Feed) :
---
Acast
In order to set a redirect from Acast, you'll need to contact Acast support to help set up a redirect. Acast support can be reached at support@acast.com. Feel free to utilize the follow email template:
Hi Acast Support,

I'm moving my podcast to a new host provider and kindly request that you apple a redirect for the following show ASAP.
Can you please apply a 301 redirect from [Insert Acast RSS Feed] to [Insert New ART19 RSS Feed]
Please let me know if you need any more information and an advised timeline would be greatly appreciated.
Thanks so much!

Once Acast support confirms the redirect is set your series should be redirected to its new ART19 RSS Feed. Additionally, if you need help finding your ART19 RSS Feed please reference this help center article.
Libsyn
301 redirects are easily added in Libsyn by going under Settings on your main menu, then selecting Redirects from the left hand side bar.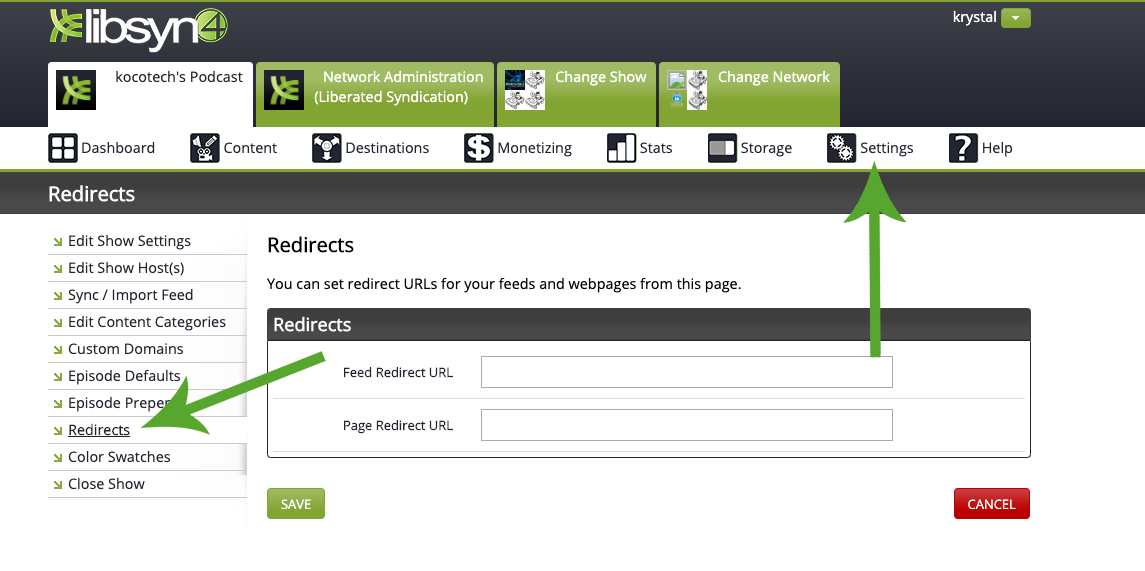 Enter the RSS feed URL you want to redirect your RSS feeds to: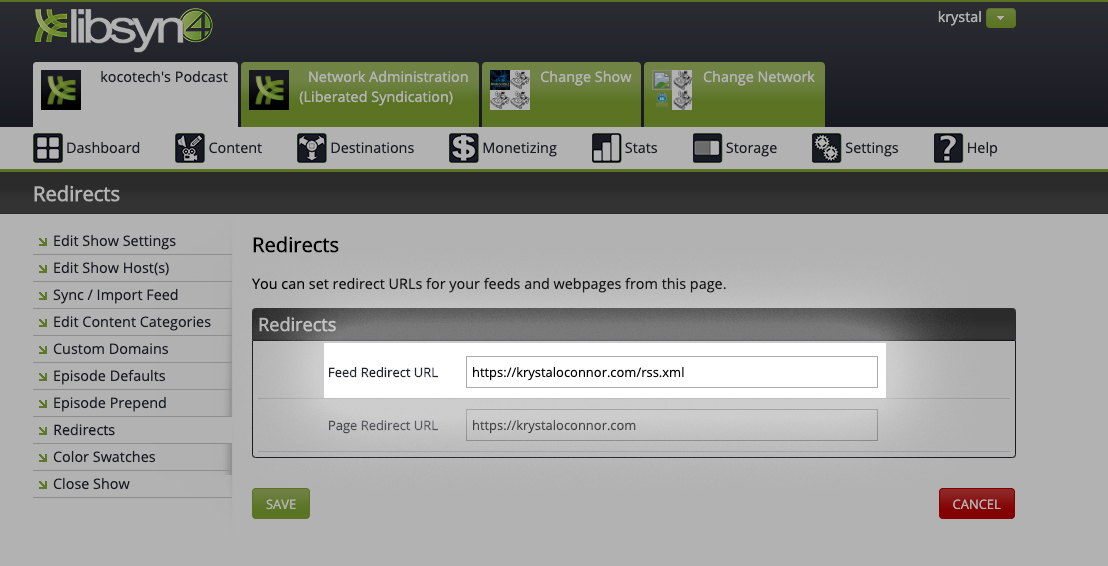 Hit Save to save your settings. You will be asked to confirm if this is really what you want to do.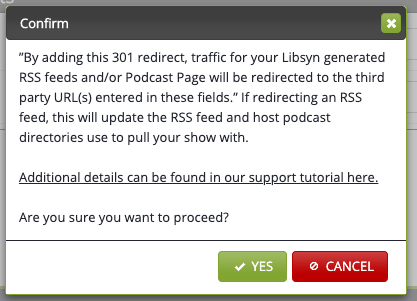 Hit Yes to save finalize your changes.
Spreaker
Follow these few steps to set up a 301 redirect from your Spreaker account:
Log in to your Spreaker account
Select "Dashboard" from the profile dropdown in the top right of the navigation bar
Select the show you'd like to redirect and choose "RSS Customization" from the left menu
Select "Redirect Feed" and paste in your new ART19 RSS feed
Note: If you have any trouble reach out to Spreaker support via the "Message us" button, for assistance and let them know you'd like to redirect to ART19